4 Berth Motorhome Hire
Darlington & County Durham
This motorhome hosts some of the most practical and modern features making your living easy, comfortable and memorable.
The 4 Berth motorhome has a total length of 6 metres. It provides the benefits of a compact motorhome, along with the space and comfort of a large motorhome.
Located in the front of the van is a lavish dining/lounge area. This is equipped with a large central table and front cabin seats, which can be transferable for the number of people.
With the click of a button, you can have a comfortable, automatic double bed which lowers from the ceiling, just above the dinette area. This feature can transform the space into a readymade sleeping area for in the evening.
If four people want to sleep in the dinette space, it can easily be converted to another large double bed, underneath.
The rear side has a spacious washroom with a toilet, hand basin, shower area, wall mirror, and vanity unit. You can also gain access to the wardrobe and external storage compartment. The van has a white-gloss central kitchen available with a three-burner gas hob and glass cover, storage compartments, separate freezer compartment and a huge sink.
Why go for a Motorhome Holiday?
Motorhome holidays are a unique experience for the whole family. No other holiday option offers the amount of flexibility and freedom you get with a motorhome getaway.
Motorhome rentals in the UK have become a top holiday choice, as more people have discovered the joys of flexible travel and suits different kinds of holidays.
UK motorhome rentals offer a luxury way to travel the UK or visit friends and family.
We can help you plan the perfect UK holiday. Once you've completed the renting process, you need to decide the direction you want to head. Motorhome travel can open up opportunities throughout Scotland, England, Northern Ireland, and Wales.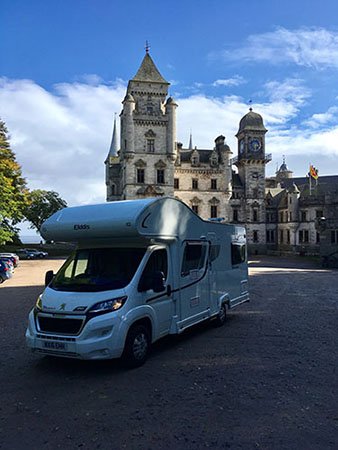 Booking your Motorhome:
Form your base; you can easily travel to the North East England region to explore the hidden gems in the country.
Visitors to the North of England can enjoy the beautiful counties of East Yorkshire, West Yorkshire, North Yorkshire and the South of Yorkshire. Some of these include York, Leeds, Beverley and Scarborough.
Aleva Leisure is a Darlington based business which offers more than 20 years experience in the leisure travel vehicle industry.
We are the leading motorhome rental company located in the North East. Our fleet of motorhomes is thoroughly valeted and insured for your takeaway purpose.
Our motorhome rentals are available at the best prices.
Have questions? Get In Touch!
If you are interested in our 4 berth motorhome hire, contact our reservation team to arrange the ideal time for you to come and take a look. We are here to make your holiday experience as comfortable and stress-free as possible, for a reasonable rate, so contact us today!